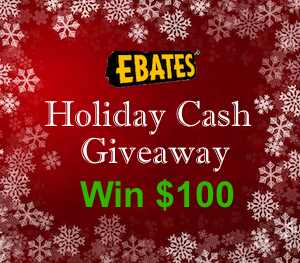 Update: Congratulations to the winner, Pauline M, and thanks to everyone who signed up!
Still got some holiday shopping to do?  Now is a great time to sign up at Ebates.com to earn cash back for your holiday gifts because many stores offer double cash back for the holidays.
Plus, this Monday is Free Shipping Day, where you can find all the best free shipping deals to get your gifts in time for the holidays.
As an added bonus, Ebates is giving away a $100 cash bonus to one of my readers!  To qualify, you just need to be an Ebates member.
Enter To Win $100 Cash Bonus From Ebates:
1. Sign up at Ebates.com through this link (if you are not already a member)
2. Leave a comment below to enter the giveaway (Make sure to include the same email you used to sign up for Ebates to confirm that you are a member. Comments will not be published)
*The giveaway will end 11:59 EST on 12/23/12 and the winner will be chosen on 12/24/12.  The $100 cash bonus will be added to the winner's Ebates account.  A randomly selected winner will be notified by email and must be a confirmed Ebates member.  Allow 2 weeks for prize delivery.
*New members also receive a $10 gift card or $5 cash bonus after making your first $25 purchase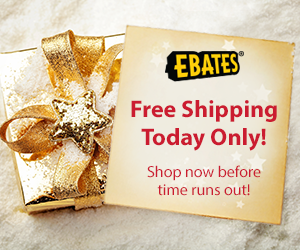 There's still time to order gifts online and get them in time for the holidays.
Now is the time to shop because there are over 1,000 stores offering free shipping deals.
Amazon is even offering free one day shipping on select products between 12/17/12 and 12/22/12!
There are also tons of December holiday sales with double cash back offers.  Combine double cash back with coupon codes and free shipping for some amazing deals this holiday season.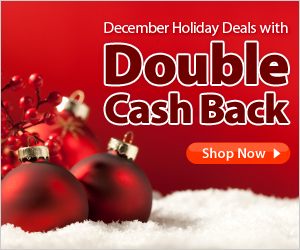 Here are a few of the great holiday deals with double cash back available at Ebates:
Sears: 9% cash back
Amazon: up to 4% cash back
Snapfish: 20% cash back
Nordstrom: 5% cash back
J.C. Penney: 8% cash back
Macy's: 6% cash back
Ebay: up to 3% cash back
If you are not already an Ebates member, sign up by clicking the form below, and don't forget to leave a comment to enter the $100 cash bonus giveaway.