I've been using Ebates.com since 2008 and just wanted to share my real experience using this cash back shopping site. I know whenever I tell people about it they kind of give me a look like it must be some kind of scam, right? Most people have become pretty savvy when it comes to internet scams, and it often raises a red flag when something seems too good to be true.
That is definitely not the case with Ebates.com. They are very open about how their website works, and how they actually make money in order to be able to give you cash back.
In order to get cash back from Ebates, you have to click on the shop button to open a tracking ticket. This is actually an affiliate link that is tracked by each store, and by Ebates. Stores give Ebates a commission for referring traffic to them, and Ebates shares a portion of that commission with you.
If you want to check it out for yourself, you can click the sign up link below.

If you want to learn a little more and actually see how it works, I made a video to show you. Sometimes seeing something in action is the best way to understand it.
I hope that video helped you understand a little more about how Ebates.com works. As further proof that it is not a scam and yes, they do actually send you the cash back you have earned, I scanned one of my old checks. They have since added the option to get payments via PayPal, so that's how I get my payments now. But I think there is no better proof than actually showing one of the checks I received.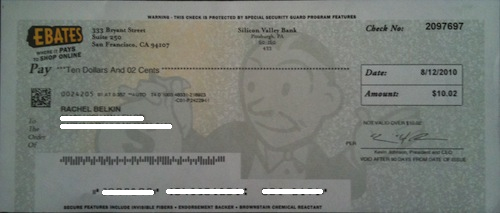 One of my favorite things about Ebates is that you can find all the current coupon codes available for each store. You can combine coupon codes with cash back to get even more savings. I'll show you an example of how this worked out really well for me recently while shopping at Snapfish.
At the time of my purchase, Ebates was offering 20% cash back for purchases at Snapfish. I noticed that they also offered a 50% off coupon for photo books, which was what I was purchasing. The photo book was priced at $29.99 originally, and I saved 50% off, which brought the price down to $14.99.

I also added a few prints to my order, so the final purchase price was $18.86. I received 20% cash back from Ebates, which came to $3.77. Taking the cash back into consideration, the final purchase price was $15.09 (before shipping and tax). This was a great deal that I was able to get by combining cash back and coupon codes.

I hope this review gave you some ideas on how to start saving some money by shopping through Ebates.com. If you shop online already, you might as well save some extra money while you're at it! Always remember to check for coupon codes too.
Click the sign up form below to join for free, plus you will get a $10 gift card, or $5 cash bonus just for signing up: